Morningtide¶
Kithkin spells and Soldier spells you cast cost less to cast.

If a source would deal damage to a player, you may prevent X of that damage, where X is the number of Clerics you control.

Latanie

Reinforce 2— (, Discard this card: Put two +1/+1 counters on target creature.)

Whenever Burrenton Shield-Bearers attacks, target creature gets +0/+3 until end of turn.

, : Put a +1/+1 counter on target Soldier creature.

Each creature you control with a +1/+1 counter on it can block an additional creature each combat.

Zmiennokształtny (Ta karta ma każdy typ stwora.)

Czujność

Choose a creature type. Coordinated Barrage deals damage to target attacking or blocking creature equal to the number of permanents you control of the chosen type.

Zaurocz stwora

: Put a +1/+1 counter on enchanted creature.

Zyskaj 10 żyć. Następnie jeśli masz więcej żyć niż przeciwnik, stwórz żeton białego stwora Gigant Czarodziej 5/5.

Prevent all damage that would be dealt to creatures this turn.

Kiedy wskazany stwór umrze w tej turze, przywróć ową kartę na pole bitwy pod władaniem właściciela.

Wyszukaj w twojej bibliotece kartę uroku, ujawnij ją, umieść w twojej ręce, po czym przetasuj.
Indomitable Ancients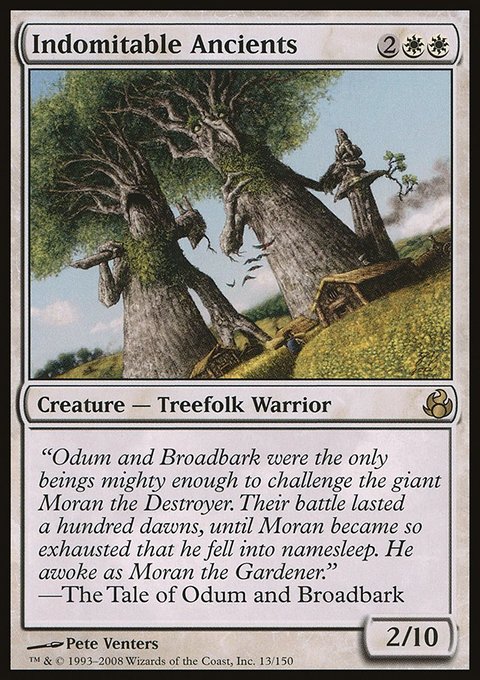 Kinsbaile Borderguard enters the battlefield with a +1/+1 counter on it for each other Kithkin you control.

When Kinsbaile Borderguard dies, create a 1/1 white Kithkin Soldier creature token for each counter on it.

Rycerze pod twoim władaniem mają podwójny cios.

Kinship — At the beginning of your upkeep, you may look at the top card of your library. If it shares a creature type with Kithkin Zephyrnaut, you may reveal it. If you do, Kithkin Zephyrnaut gets +2/+2 and gains flying and vigilance until end of turn.

Kiedy ten stwór opuści pole bitwy, umieść znacznik +1/+1 na każdym stworze pod władaniem wskazanego gracza.

Przyzwanie (Możesz rzucić ten czar za jego koszt przyzwania. Jeśli tak zrobisz, zostaje poświęcony po wejściu na pole bitwy.)

Pierwszy cios

Reinforce 1— (, Discard this card: Put a +1/+1 counter on target creature.)

Ilekroć niniejszy zaatakuje, możesz zapłacić . Jeśli tak zrobisz, do końca tury zyskuje on latanie.

Pierwszy cios (Ten stwór zadaje obrażenia bojowe przed stworami bez pierwszego ciosu.)

Ilekroć ten stwór zaatakuje, możesz umieścić na polu bitwy przekręconą i atakującą kartę stwora typu Piechur z twojej ręki.

Target creature you control gains protection from the color of your choice until end of turn. Clash with an opponent. If you win, return Redeem the Lost to its owner's hand. (Each clashing player reveals the top card of their library, then puts that card on the top or bottom. A player wins if their card had a higher mana value.)

Latanie

Kiedy ten stwór opuści pole bitwy, przywróć co najwyżej dwie wskazane karty stworów o sile 2 lub mniejszej z twojego cmentarza na pole bitwy.

Przyzwanie (Możesz rzucić ten czar za jego koszt przyzwania. Jeśli tak zrobisz, zostaje poświęcony po wejściu na pole bitwy.)

Latanie

Shinewend enters the battlefield with a +1/+1 counter on it.

, Remove a +1/+1 counter from Shinewend: Destroy target enchantment.

Czujność

, : Wyszukaj w twojej bibliotece kartę Wyposażenia, umieść ją na polu bitwy, dołącz ją do stwora pod twoim władaniem, po czym przetasuj.

Whenever Stonybrook Schoolmaster becomes tapped, you may create a 1/1 blue Merfolk Wizard creature token.

Stwory pod twoim władaniem dostają do końca tury +2/+2.

Reinforce X— (, Discard this card: Put X +1/+1 counters on target creature.)

Kinship — At the beginning of your upkeep, you may look at the top card of your library. If it shares a creature type with Wandering Graybeard, you may reveal it. If you do, you gain 4 life.

Zaurocz stwora

Zauroczony stwór nie może atakować.

Przekręć dwa odkręcone stwory pod twoim władaniem mające wspólny typ: Wygnaj zauroczonego stwora.

As Declaration of Naught enters the battlefield, choose a card name.

: Counter target spell with the chosen name.

Błysk

Latanie

When Dewdrop Spy enters the battlefield, look at the top card of target player's library.

Przywróć wskazany nie-lądowy byt do ręki właściciela.

Wybierz typ stwora. Dobierz kartę za każdy byt pod twoim władaniem mający ów typ.

Latanie

: Put Fencer Clique on top of its owner's library.

Floodchaser enters the battlefield with six +1/+1 counters on it.

Floodchaser can't attack unless defending player controls an Island.

, Remove a +1/+1 counter from Floodchaser: Target land becomes an Island until end of turn.

Whenever Grimoire Thief becomes tapped, exile the top three cards of target opponent's library face down.

You may look at cards exiled with Grimoire Thief.

, Sacrifice Grimoire Thief: Turn all cards exiled with Grimoire Thief face up. Counter all spells with those names.

Kinship — At the beginning of your upkeep, you may look at the top card of your library. If it shares a creature type with Ink Dissolver, you may reveal it. If you do, each opponent mills three cards.

Błysk

Latanie

Whenever you cast a Wizard spell, you may untap Inspired Sprite.

: Dobierz kartę, po czym odrzuć kartę.

Prowl (You may cast this for its prowl cost if you dealt combat damage to a player this turn with a Rogue.)

Search target opponent's library for an instant or sorcery card. You may cast that card without paying its mana cost. Then that player shuffles.

Latanie

Grasowanie (Możesz rzucić to za koszt grasowania jeśli w tej turze zadałeś graczowi obrażenia bojowe Wróżką lub Łotrzykiem.)

Kiedy ten byt wejdzie na pole bitwy, jeśli opłacono jego koszt grasowania, dobierz kartę.

When Merrow Witsniper enters the battlefield, target player mills a card.

Dobierz X kart.

Zmiennokształtny (Ta karta ma każdy typ stwora.)

Przekręć odkręconego stwora pod twoim władaniem: Ten stwór do końca tury zyskuje latanie.

Skontruj wskazany nie-stworowy czar.

Latanie

When Nevermaker leaves the battlefield, put target nonland permanent on top of its owner's library.

Evoke (You may cast this spell for its evoke cost. If you do, it's sacrificed when it enters the battlefield.)

Grasowanie (Możesz rzucić to za koszt grasowania jeśli w tej turze zadałeś graczowi obrażenia bojowe Wróżką lub Łotrzykiem.)

Stwórz X żetonów czarnego stwora Wróżka Łotrzyk z lataniem, gdzie X jest liczbą obrażeń zadanych twoim przeciwnikom w tej turze. Jeśli opłacono koszt grasowania tego czaru, weź dodatkową turę po obecnej.

Draw a card. Clash with an opponent. If you win, return Research the Deep to its owner's hand. (Each clashing player reveals the top card of their library, then puts that card on the top or bottom. A player wins if their card had a higher mana value.)

Each other Wizard creature you control enters the battlefield with an additional +1/+1 counter on it.

, Remove a +1/+1 counter from a creature you control: Draw a card.

Counter target spell unless its controller pays . If you control a Wizard, draw a card.

, Tap two untapped Wizards you control: Copy target instant or sorcery spell. You may choose new targets for the copy.

When Slithermuse leaves the battlefield, choose an opponent. If that player has more cards in hand than you, draw cards equal to the difference.

Evoke (You may cast this spell for its evoke cost. If you do, it's sacrificed when it enters the battlefield.)

Podbój wysp (Ten stwór nie może być blokowany o ile broniący się gracz włada Wyspą.)

Merfolk spells and Wizard spells you cast cost less to cast.

Wskazany stwór do końca tury dostaje -4/-0. Jeśli władasz Czarodziejem, dobierz kartę.

Latanie

Champion an Elemental (When this enters the battlefield, sacrifice it unless you exile another Elemental you control. When this leaves the battlefield, that card returns to the battlefield.)

Prowl (You may cast this for its prowl cost if you dealt combat damage to a player this turn with a Rogue.)

Spójrz na cztery wierzchnie karty twojej biblioteki. Umieść jedną z nich w twojej ręce, a pozostałe losowo na spodzie twojej biblioteki.

Błysk

Latanie

Kiedy ten byt wejdzie na pole bitwy, spójrz na rękę wskazanego gracza. Możesz wybrać z niej nielądową kartę. Jeśli tak zrobisz, ów gracz ujawnia ową kartę, umieszcza ją na spodzie swojej biblioteki, po czym dobiera kartę.

Kinship — At the beginning of your upkeep, you may look at the top card of your library. If it shares a creature type with Waterspout Weavers, you may reveal it. If you do, each creature you control gains flying until end of turn.

Ten stwór nie może blokować.

Grasowanie (Możesz rzucić to za koszt grasowania jeśli w tej turze zadałeś graczowi obrażenia bojowe Wróżką lub Łotrzykiem.)

Ilekroć Goblin lub Łotrzyk pod twoim władaniem zada graczowi obrażenia bojowe, jeśli ta karta jest w twoim cmentarzu, możesz przywrócić tę kartę do twojej ręki.

Na początku twojego kroku utrzymania, strać 1 życie i stwórz żeton czarnego stwora Wróżka Łotrzyk 1/1 z lataniem.

, zapłać 1 życie: Weź .

Grasowanie (Możesz rzucić to za koszt grasowania jeśli w tej turze zadałeś graczowi obrażenia bojowe Wróżką lub Łotrzykiem.)

Kiedy ten byt wejdzie na pole bitwy, jeśli opłacono jego koszt grasowania, wyszukaj w bibliotece wskazanego przeciwnika trzy karty i wygnaj je. Następnie ów gracz tasuje.

: Up to two target Swamps each become 3/5 Treefolk Warrior creatures in addition to their other types until end of turn.

Ten stwór wchodzi na pole bitwy mając znacznik +1/+1.

, usuń znacznik +1/+1 z tego stwora: Wszystkie inne stwory dostają do końca tury -1/-1.

Latanie

When Final-Sting Faerie enters the battlefield, destroy target creature that was dealt damage this turn.

Pośpiech

Rzucanie czarów Goblinów oraz czarów Łotrzyków kosztuje cię o mniej.

Gracze nie mogą dobierać kart.

At the beginning of each player's draw step, that player loses 3 life, searches their library for a card, puts it into their hand, then shuffles.

Wskazany gracz odrzuca X losowych kart.

Zmiennokształtny (Ta karta ma każdy typ stwora.)

: Moonglove Changeling gains deathtouch until end of turn. (Any amount of damage it deals to a creature is enough to destroy that creature.)

Prowl (You may cast this for its prowl cost if you dealt combat damage to a player this turn with a Rogue.)

Target player loses 3 life and you gain 3 life. If this spell's prowl cost was paid, draw a card.

Latanie

Kinship — At the beginning of your upkeep, you may look at the top card of your library. If it shares a creature type with Nightshade Schemers, you may reveal it. If you do, each opponent loses 2 life.

Prowl (You may cast this for its prowl cost if you dealt combat damage to a player this turn with a Rogue.)

Target player reveals three cards from their hand. You choose two of them. That player discards those cards.

Błysk

Kiedy ten stwór opuści pole bitwy, wygnaj wskazaną kartę z cmentarza.

Przyzwanie (Możesz rzucić ten czar za jego koszt przyzwania. Jeśli tak zrobisz, zostaje poświęcony po wejściu na pole bitwy.)

Latanie

Każdy inny Łotrzyk pod twoim władaniem wchodzi na pole bitwy z dodatkowym znacznikiem +1/+1.

Ilekroć stwór pod twoim władaniem mający znacznik +1/+1 zada graczowi obrażenia bojowe, ów gracz odrzuca kartę.

Choose a creature type. Target creature gets -1/-1 until end of turn for each permanent of the chosen type you control.

Postrach (Ten stwór nie może być blokowany, chyba że przez stwory artefaktowe lub czarne.)

Clash with an opponent. If you win, target player discards two cards. Otherwise, that player discards a card. (Each clashing player reveals the top card of their library, then puts that card on the top or bottom. A player wins if their card had a higher mana value.)

Return target creature card from a graveyard to its owner's hand. Clash with an opponent. If you win, return Revive the Fallen to its owner's hand. (Each clashing player reveals the top card of their library, then puts that card on the top or bottom. A player wins if their card had a higher mana value.)

, Exile an Assassin card from your graveyard: Destroy target creature.

Kinship — At the beginning of your upkeep, you may look at the top card of your library. If it shares a creature type with Squeaking Pie Grubfellows, you may reveal it. If you do, each opponent discards a card.

Latanie

At the beginning of the end step, if you control no Goblins, sacrifice Stenchskipper.

Grasowanie (Możesz rzucić to za koszt grasowania jeśli w tej turze zadałeś graczowi obrażenia bojowe Wróżką lub Łotrzykiem.)

Ilekroć Łotrzyk pod twoim władaniem zaatakuje i nie jest blokowany, dostaje on do końca tury +2/+1.

Destroy target nonblack creature. Create a 1/1 black Faerie Rogue creature token with flying.

Wskazany gracz poświęca stwora. Jeśli w ten sposób poświęcono Goblina, ów gracz tworzy dwa żetony czarnego stwora Goblin Łotrzyk 1/1 i owe żetony zyskują do końca tury pośpiech.

At the beginning of your upkeep, target creature other than Weed-Pruner Poplar gets -1/-1 until end of turn.

, Sacrifice a Goblin: Create two 1/1 black Goblin Rogue creature tokens.

Tratowanie

When Boldwyr Heavyweights enters the battlefield, each opponent may search their library for a creature card and put it onto the battlefield. Then each player who searched their library this way shuffles.

Tchórze nie mogą blokować Wojowników.

: Wskazany stwór staje się do końca tury Tchórzem.

: Wskazany stwór staje się do końca tury Wojownikiem.

Tratowanie

Ten stwór dostaje +4/+4 za każdego innego Giganta pod twoim władaniem.

Elemental spells and Warrior spells you cast cost less to cast.

Reinforce 1— (, Discard this card: Put a +1/+1 counter on target creature.)

Na początku twojego kroku utrzymania, ujawnij wierzchnią kartę twojej biblioteki. Jeśli jest kartą lądu, umieść ją w twoim cmentarzu i powtórz ten proces.

Ilekroć karta lądu trafi skądkolwiek do twojego cmentarza, umieść znacznik +1/+1 na tym stworze.

Whenever Fire Juggler becomes blocked, clash with an opponent. If you win, Fire Juggler deals 4 damage to each creature blocking it. (Each clashing player reveals the top card of their library, then puts that card on the top or bottom. A player wins if their card had a higher mana value.)

Zaurocz ląd

Enchanted land has ": Target creature can't block this turn."

Wskazany stwór do końca tury dostaje +1/+0 i pierwszy cios.

Champion a Goblin or Shaman (When this enters the battlefield, sacrifice it unless you exile another Goblin or Shaman you control. When this leaves the battlefield, that card returns to the battlefield.)

: Lightning Crafter deals 3 damage to any target.

Whenever Lunk Errant attacks alone, it gets +1/+1 and gains trample until end of turn.

Kinship — At the beginning of your upkeep, you may look at the top card of your library. If it shares a creature type with Mudbutton Clanger, you may reveal it. If you do, Mudbutton Clanger gets +1/+1 until end of turn.

Kinship — At the beginning of your upkeep, you may look at the top card of your library. If it shares a creature type with Pyroclast Consul, you may reveal it. If you do, Pyroclast Consul deals 2 damage to each creature.

Kiedy ten byt wejdzie na pole bitwy, umieść znacznik +1/+1 na każdym Szamanie pod twoim władaniem.

Ilekroć zaatakuje stwór pod twoim władaniem mający znacznik +1/+1, możesz sprawić, że ów stwór zada wskazanemu stworowi lub wędrowcowi 1 obrażenie.

Release the Ants deals 1 damage to any target. Clash with an opponent. If you win, return Release the Ants to its owner's hand. (Each clashing player reveals the top card of their library, then puts that card on the top or bottom. A player wins if their card had a higher mana value.)

Choose two target creatures that share no creature types. Those creatures fight each other. (Each deals damage equal to its power to the other.)

Choose a creature type. Roar of the Crowd deals damage to any target equal to the number of permanents you control of the chosen type.

Sacrifice an Elemental: Seething Pathblazer gets +2/+0 and gains first strike until end of turn.

Kinship — At the beginning of your upkeep, you may look at the top card of your library. If it shares a creature type with Sensation Gorger, you may reveal it. If you do, each player discards their hand, then draws four cards.

Jako dodatkowy koszt rzucenia tego czaru — poświęć ląd.

Shard Volley deals 3 damage to any target.

Ilekroć stwór pod twoim władaniem zaatakuje, dostaje on do końca tury +1/+0 za każdego innego stwora mającego z nim wspólny typ stwora.

Kiedy ten byt opuści pole bitwy, zadaje on wskazanemu stworowi 6 obrażeń.

Przyzwanie (Możesz rzucić ten czar za jego koszt przyzwania. Jeśli tak zrobisz, zostaje poświęcony po wejściu na pole bitwy.)

Stingmoggie enters the battlefield with two +1/+1 counters on it.

, Remove a +1/+1 counter from Stingmoggie: Destroy target artifact or land.

Reveal the top seven cards of your library, then put those cards on the bottom of your library in any order. If a card named Stomping Slabs was revealed this way, Stomping Slabs deals 7 damage to any target.

, : Sunflare Shaman deals X damage to any target and X damage to itself, where X is the number of Elemental cards in your graveyard.

Zmiennokształtny (Ta karta ma każdy typ stwora.)

Ilekroć przeciwnik rzuci czar, możesz umieścić znacznik +1/+1 na tym stworze.

Titan's Revenge deals X damage to any target. Clash with an opponent. If you win, return Titan's Revenge to its owner's hand. (Each clashing player reveals the top card of their library, then puts that card on the top or bottom. A player wins if their card had a higher mana value.)

Vengeful Firebrand has haste as long as a Warrior card is in your graveyard.

: Vengeful Firebrand gets +1/+0 until end of turn.

Zmiennokształtny (Ta karta ma każdy typ stwora.)

: Ten stwór do końca tury zyskuje pierwszy cios.

Kiedy ten byt wejdzie na pole bitwy, stwórz żeton zielonego stwora Elf Wojownik 1/1.

Treefolk spells and Shaman spells you cast cost less to cast.

Each other Warrior creature you control enters the battlefield with an additional +1/+1 counter on it.

Każdy stwór pod twoim władaniem mający znacznik +1/+1, ma tratowanie.

Zmiennokształtny (Ta karta ma każdy typ stwora.)

Ochrona przed czarnym

: Ten stwór do końca tury dostaje +X/+X, gdzie X jest jego siłą.

Whenever a creature enters the battlefield under your control, you may look at the top X cards of your library, where X is that creature's power. If you do, put one of those cards on top of your library and the rest on the bottom of your library in any order.

Właściciel wskazanego artefaktu lub uroku wtasowuje go do swojej biblioteki.

Wskazany stwór do końca tury dostaje +3/+3.

Reinforce 1— (, Discard this card: Put a +1/+1 counter on target creature.)
Elvish Warrior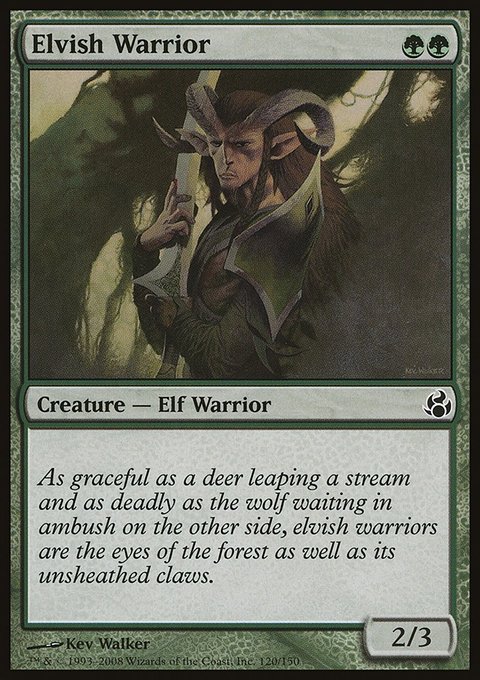 , wygnaj kartę Drzewca z twojego cmentarza: Wyszukaj w twojej bibliotece co najwyżej dwie karty Lasu, umieść je przekręcone na polu bitwy, po czym przetasuj.

Ten stwór wchodzi na pole bitwy mając dwa znaczniki +1/+1.

, usuń znacznik +1/+1 z tego stwora: Wskazany gracz wyszukuje w swojej bibliotece kartę lądu, umieszcza ją przekręconą na polu bitwy, po czym tasuje.

Zmiennokształtny (Ta karta ma każdy typ stwora.)

Tratowanie

Whenever you cast a Druid spell, you may draw a card.

Tap seven untapped Druids you control: Gain control of all lands target player controls.

Other Archer creatures you control get +1/+1.

Whenever an Archer you control deals damage to a creature, that Archer deals that much damage to that creature's controller.

Przekręć trzy odkręcone Elfy pod twoim władaniem: Weź .

Create three 1/1 green Elf Warrior creature tokens.

Wzmacnianie 3— (, odrzuć tę kartę: Umieść trzy znaczniki +1/+1 na wskazanym stworze.)

Kinship — At the beginning of your upkeep, you may look at the top card of your library. If it shares a creature type with Leaf-Crowned Elder, you may reveal it. If you do, you may play that card without paying its mana cost.

Choose a creature type. You gain 2 life for each permanent you control of that type.

Zasięg

Whenever you cast an Elf spell, you may have Lys Alana Bowmaster deal 2 damage to target creature with flying.

Whenever another Treefolk creature enters the battlefield under your control, you may gain life equal to that creature's toughness.

Stwórz żeton zielonego stwora Drzewiec Szaman 2/5.

Ilekroć Las wejdzie na pole bitwy pod twoim władaniem, możesz przywrócić tę kartę z twojego cmentarza do twojej ręki.

Reveal cards from the top of your library until you reveal a land card. Put that card onto the battlefield and the rest on the bottom of your library in any order. Clash with an opponent. If you win, return Recross the Paths to its owner's hand. (Each clashing player reveals the top card of their library, then puts that card on the top or bottom. A player wins if their card had a higher mana value.)

Zaurocz stwora

Zauroczony stwór dostaje +2/+2.

When enchanted creature dies, you may return Reins of the Vinesteed from your graveyard to the battlefield attached to a creature that shares a creature type with that creature.

Whenever Rhys the Exiled attacks, you gain 1 life for each Elf you control.

, Sacrifice an Elf: Regenerate Rhys the Exiled.

Poświęć dowolną liczbę lądów. Wyszukaj w twojej bibliotece co najwyżej tyle samo kart lądów, umieść je przekręcone na polu bitwy, po czym przetasuj.

Tratowanie

Champion a Treefolk or Warrior (When this enters the battlefield, sacrifice it unless you exile another Treefolk or Warrior you control. When this leaves the battlefield, that card returns to the battlefield.)

Whenever a creature you control becomes blocked, it gets +0/+5 until end of turn.

Kiedy ten stwór opuści pole bitwy, stwórz żeton zielonego stwora Żywiołak 4/4.

Przyzwanie (Możesz rzucić ten czar za jego koszt przyzwania. Jeśli tak zrobisz, zostaje poświęcony po wejściu na pole bitwy.)

Kinship — At the beginning of your upkeep, you may look at the top card of your library. If it shares a creature type with Winnower Patrol, you may reveal it. If you do, put a +1/+1 counter on Winnower Patrol.

Kinship — At the beginning of your upkeep, you may look at the top card of your library. If it shares a creature type with Wolf-Skull Shaman, you may reveal it. If you do, create a 2/2 green Wolf creature token.

Equipped creature gets +2/+0 and has shroud. (It can't be the target of spells or abilities.)

Whenever a Rogue creature enters the battlefield, you may attach Cloak and Dagger to it.

Wyposaż

Equipped creature has "Whenever you draw a card, this creature gets +1/+1 and gains flying until end of turn" and ": Draw a card."

Whenever a Wizard creature enters the battlefield, you may attach Diviner's Wand to it.

Wyposaż

Przy wejściu tego bytu na pole bitwy wybierz typ stwora.

Ilekroć rzucisz czar wybranego typu, umieść znacznik ładunku na tym artefakcie.

Stwory wybranego typu pod twoim władaniem dostają +1/+1 za każdy znacznik ładunku na tym artefakcie.

Equipped creature gets +2/+1 and has haste.

Whenever a Warrior creature enters the battlefield, you may attach Obsidian Battle-Axe to it.

Wyposaż

Equipped creature has ", : This creature deals 1 damage to any target" and "Whenever a creature dies, untap this creature."

Whenever a Shaman creature enters the battlefield, you may attach Thornbite Staff to it.

Wyposaż

Equipped creature has "Whenever this creature attacks or blocks, it gets +1/+1 until end of turn for each attacking creature."

Whenever a Soldier creature enters the battlefield, you may attach Veteran's Armaments to it.

Wyposaż

(: Weź .)

Przy wejściu tego bytu na pole bitwy, możesz ujawnić kartę Drzewca z twojej ręki. Jeśli tak nie zrobisz, ten byt wchodzi przekręcony na pole bitwy.

: Weź lub . Ten byt zadaje tobie 1 obrażenie.

: Weź .

: Ten ląd do końca tury staje się stworem 2/2 mający każdy typ stwora. Nadal jest lądem.

As Primal Beyond enters the battlefield, you may reveal an Elemental card from your hand. If you don't, Primal Beyond enters the battlefield tapped.

: Weź .

: Add one mana of any color. Spend this mana only to cast an Elemental spell or activate an ability of an Elemental.

As Rustic Clachan enters the battlefield, you may reveal a Kithkin card from your hand. If you don't, Rustic Clachan enters the battlefield tapped.

: Weź .

Reinforce 1— (, Discard this card: Put a +1/+1 counter on target creature.)